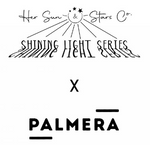 Palmera is an organization that innovates sustainable livelihoods for the most vulnerable in Sri Lanka. Knowing that we were a brand new small business, my intent was to promise a modest percentage of 10% of proceeds from the Karthikai design to Palmera and build my way up as the business grows.
---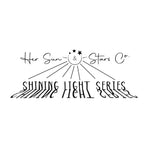 When starting Her Sun & Stars Co., it was extremely important to me that this business is built with a strong notion of giving back.  I knew that I had to incorporate this base in different and creative ways throughout this shop.  And with this, the Shining Light series was born - a line of designs created by Her Sun & Stars Co. seeking to create positive change in this world.  A portion of the proceeds from these designs will go towards different causes that are close to my heart.  The first design is the Karthikaipoo - this specific design...
---
Hi!  My name is Tanya and I am a Game of Thrones fanatic, carb enthusiast, a wife to an amazing husband, and a mother to two of the most adorable (and crazy) kiddos on this planet. One thing that just about all kids love is seeing their name on their possessions.  Whether it's in a book, on a shirt or on the wall, they love seeing their name in writing.  I suppose it gives them a sense of ownership – I certainly remember the first time I saw my name on a piece of mail – it was exhilarating!  ...