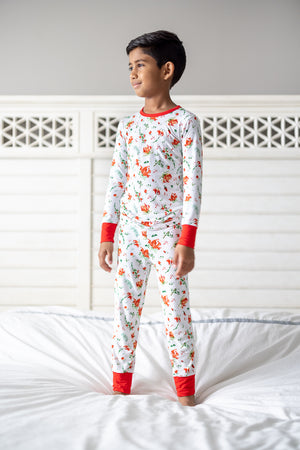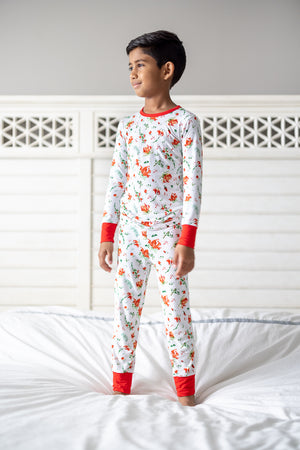 On Sale
Karthikaipoo - Bamboo Viscose Pyjamas
**This design is the first in the Shining Light series - a line of designs created by Her Sun & Stars Co. seeking to create positive change in this world.  A portion of the proceeds from this specific design will go towards funding projects in Tamil Eelam (Tamil Homeland in the North Eastern provinces of Sri Lanka).  We will be partnering with Palmera - an organization that innovates sustainable livelihoods for the most vulnerable in Tamil Eelam.**
Since Sri Lanka gained independence from Britain in 1948, relations between the majority Sinhalese and minority Tamil communities have been strained.  Rising ethnic and political tensions, along with ethnic pogroms called out by Sinhalese mobs in 1956, 1958, 1977, 1981 and 1983, led to the formation and strengthening of militant groups advocating independence for Tamils. The ensuing civil war resulted in the deaths of more than 100,000 people and the forced disappearance of thousands of others.  The civil war ended in 2009 but there are continuing allegations of atrocities being committed by the Sri Lankan Military.  A United Nations panel found that as many as 40,000 Tamil civilians may have been killed in the final months of the civil war.  In January 2020, President Gotabaya Rajapaksa said that the estimated 20,000+ abducted Sri Lankan Tamil civilians were dead.  The end of the civil war has not improved conditions in Sri Lanka, with press freedom not being restored and the judiciary coming under political control.  
"Karthikaipoo" or Gloriosa Lily has been proclaimed the official national flower of Eelam Tamils.  The lily has the spectrum of colours contained in the Tamil Eelam national flag.  In November, the month of Tamil Heroes' Day celebrations, this flower ubiquitously spreads, sprouts new shoots and blooms throughout the North Eastern part of Sri Lanka.**
Our incredibly soft bamboo viscose PJs will be your little one's first pick when it's time to get ready for bed.  Our buttery-soft bamboo is breathable, temperature regulating and moisture wicking – perfect for any season of the year! Eco-friendly and sustainable fabrics with gorgeously unique designs, what's not to love?
Unsure which size to pick? For safety reasons, Her Sun & Stars Co. PJs are designed to be snug fitting so if you are unsure, size up!
Fabric & Care
Material: 95% Bamboo Viscose, 5% spandex
Antimicrobial fabric that inhibits the growth of microorganisms
Machine wash cold - gentle cycle 
Phosphate Free Detergent recommended for colour care 
Tumble dry low
Do NOT use Fabric Softener
All articles are pre-washed and pre-shrunk
Safety Disclaimer:  Our garments are not sealed with fire-retardant chemicals as they are intended to fit snug - loose-fitting garments are more likely to catch fire.