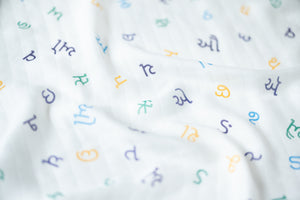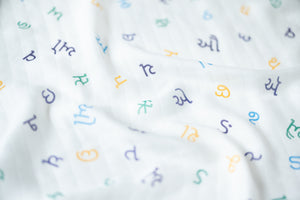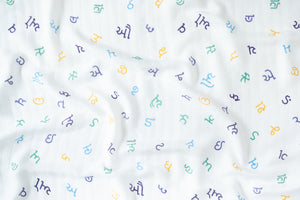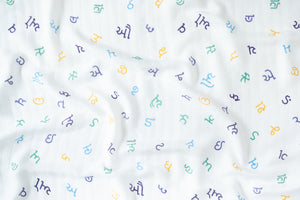 On Sale
Gujarati Alphabet - Bamboo Cotton Muslin Blanket
Our signature bamboo cotton muslin blankets are the perfect addition to your collection. The bamboo and cotton blend allows the blanket to be super soft and breathable for your little one. 
You can use it as a nursing cover, large swaddle, blanket for tummy time, cuddle time (our favourite), and more! These blankets c
an be a great surprise for an expecting parent or for any special little one in your life. 
Sizing Information
Our signature muslin blankets come in one size - 47" x 47".
 Environmental Efforts
All of our packaging is earth-friendly. Please place your cellophane packing slip, product care card in the recycling and biodegradable shipping mailer in your home compost (green bin) when you are done with them. 
 Care Instructions
Cleaning Products: Recommended to use paraben-free detergents labelled "sensitive-skin" or "eco-friendly".
Avoid: Fabric softener, detergents with fabric softener, detergents with dye and scents.  Pods are not recommended.
Wash: Wash your muslin blanket on warm with similar colours. Do not bleach.
Dry: Hang to dry, do not tumble dry.

Extra Information
Please note colours may print slightly darker or lighter than what appears on your screen due to colour calibration settings on monitors.  
Please do not leave your child unattended in our swaddles.
For turnaround information, please see our Order/Return Policy.
Your satisfaction and experience with our shop is our highest priority.  
Please feel free to contact us through our Contact Form with any questions you might have.
For more design ideas and to have input on future designs and products,
visit us on Instagram @hersunandstars.co.