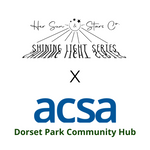 With COVID-19 causing a record number of layoffs and economic downturn, food insecurity grew insurmountably in Canada. Prior to the pandemic, 4.5 million Canadians experienced food security, and by April 2020, that number grew by 39% (CTV, 2020). Food insecurity is affecting one in seven individuals in our country, and unfairly impacting low-income and BIPOC communities. 
So, back in February, Her Sun & Stars held a one month food drive. We asked our amazing customers to donate anything they can when they come to pick up their orders, and we were overwhelmed by the response we received! In total, we collected 97 non-perishable goods and 23 personal hygiene items. 
In March, Arjuna and I visited Agincourt's Dorset Park Community Hub in Scarborough to drop off the food items. Everyone was so hospitable and it was such a positive experience. Thank you so much to everyone who donated, HSAS definitely does have the best customers!