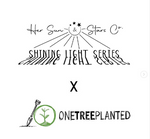 Closer to the end of last year, I was talking to a friend who owns a small business and they were questioning why I push so hard for eco-friendly packaging since it's so expensive, really hard to get in Canada, and I'm a small business that's starting out. I told them that despite whatever efforts I've made in packaging, we are far from a sustainable brand. Our minky fabric is made of 100% polyester, which is a man-made polymer and not eco-friendly like organic materials are. My friend quickly pointed out how many big brands donate to environmental causes to offset their carbon footprint and suggested that I plant a tree for each blanket we made in order to reduce our overall environmental impact - an idea that I LOVED! I immediately remembered how my other friend, Geerthana, donated to a non-profit called One Tree Planted with one of her early batches of soaps from her shop, @deviwellnesscompany.
Source: One Tree Planted
One Tree Planted is a non-profit organization that works with reforestation partners in North America, South America, Asia, and Africa to restore forests and protect habitat for biodiversity (One Tree Planted). 46% of the world's forests are already destroyed, whether it be through fires, unsustainable logging, or clear-cutting for agriculture, and we are not currently replanting trees at the same rate as we are destroying them. That's why One Tree Planted is an excellent organization to donate to. In 2020, the organization planted over 15 million trees! Here's a short video that helps explain what One Tree Planted does: 
Trees help clean the air we breathe, filter the water we drink, and provide habitat to over 80% of the world's terrestrial biodiversity. So for 2021,
we pledge to plant one tree for each and every blanket ordered
! And we sincerely hope that as our business grows, we will be able to increase our contributions to environmental efforts. Here's to friends that help solve our problems and other businesses that inspire you! 🌳.